Welcome to Camp Adventure Buddies 2023!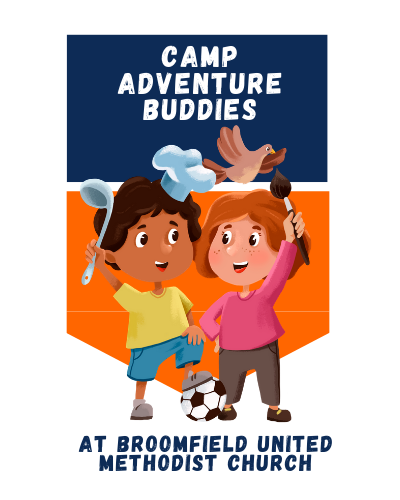 CAMP INFO
in the media
time
9am-3pm daily on camp days
Week 1: June 20-June 23 will be Tuesday - Friday
Weeks 2, 3, and 4: Monday – Friday
camper ages
 6-11 (campers will be grouped by age for daily rotation activities)
registration fee
Upon approval in Kangaroo Time (KT Connect) by camp administration, a $100 registration fee will be required. This fee is non-refundable.
weekly camp fee
$250 per camper per week with an optional $10 t-shirt fee, $100 non-refundable deposit due at time of registration. Remaining tuition will be charged to the credit card or ACH information on file 7 days prior to camp start date.
what to bring
Please send your camper with a water bottle, snack, lunch, and backpack.
required forms
It is required that you also send Immunization records, a current physical, any allergy or asthma care plans, along with medications, and a signed permission form via email to sara.godwin@broomfieldumc.org. These forms must be in your camper's file no later than 1 week prior to the start of camp.
Authorizations for Attendance Summer Camps
Medication Administration Permission
AllergyAnaphylaxis Health Care Plan 8 2013 - enabled
registration deadline
Four days prior to camp start date.
Registration for the 2023 Summer Camp programs is now open!

June 20 – July 21, 2022*
Camp Descriptions
Week 1
6/20-6/23 | Culinary Camp - The Great American BBQ - This Camp has filled to capacity.
*Due to the Juneteenth Federal holiday, this camp will begin on Tuesday, 6/20 and run through Friday, 6/23.
Culinary camp is an opportunity for campers to come together to learn about their world through food. Through the process of menu creation, shopping, and cooking, the campers work together to create things that they can enjoy together. Campers will enjoy the fruits of their labor when they taste foods inspired by the Great American Barbecue. The Christian focus is "God will meet all your needs".
Week 2
6/26 – 6/30 | Kid's Fine Art Festival
Art camp allows campers to explore their world through sound, color, shape, and touch. Imaginations run free as they study the works of others' and then use the materials of those artists to make their own creations. Campers will explore the art of Kandinsky, Kusama, Picasso, Jeff Koons, and Ansel Adams. The Christian focus will be "God made our world unique!"
*Please note, there is no camp the week of July 3 in observance of the July 4 holiday on Tuesday. 
Week 3
7/10 – 7/14 | Summer on Stage - Christmas in July
Drama camp allows the campers to become true collaborators. During this year's Christmas in July, campers will write a play based on the most well-known story of the Bible, the Nativity. The sky's the limit as campers will create characters, storylines, props, and costumes as they join forces and perform their masterpiece before a live audience!
Week 4
7/17 – 7/21 Wide World of Sports
Sports camp gives high energy kids an outlet for all that spirit! Campers will play traditional sports such as soccer and basketball, but also have the opportunity to learn less traditional sports such as bocce ball, cornhole, yoga, cup stacking, karate, and golf. The campers learn the important skills of teamwork and sportsmanship as they come together for an energetic week of fun. The Christian focus will be "The Power of Prayer".