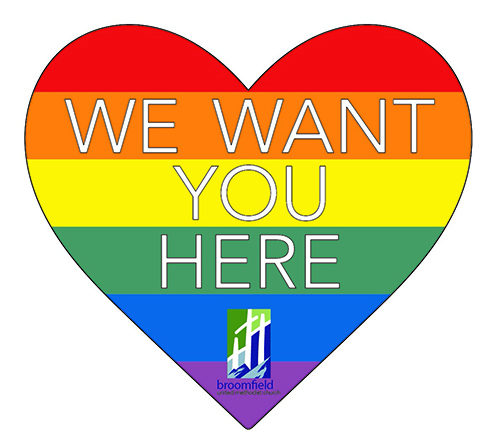 We embrace every person. Your race, ethnicity, gender expression, sexual/relational orientation, socio-economic background, age, religion, body shape, size and ability are beautiful to us.
We want you here.
Please take a moment to enjoy this short welcome video from Pastor Don.

Join Us For Worship
We hope to see you soon at one of our in-person worship services:
Traditional Worship - 8:00am in the Chapel & 11:00am in the Sanctuary
Contemporary Worship - 9:30am in the Sanctuary
Our 9:30am and 11am worship services are live-streamed on our Facebook page or YouTube channel. Not a good time for you? No problem! Watch at the time that works best for you.


Sunday Classes & Groups
Sign up for our e-newsletter to find out about in-person Small Group, Family and Student Ministry gatherings and more.


What to expect
One common phrase that so many say about Broomfield UMC is that it feels like "home." You'll find people from different walks of life. We have traditional and contemporary worship services for you to choose from. We encourage you to connect to one of our many small groups during the week and on Sunday mornings. We have opportunities for all ages to belong.
On the first Sunday of every month we celebrate the sacrament of Holy Communion. In the United Methodist Church we invite everyone to participate and no person is denied the opportunity to receive God's grace as expressed through the bread and the juice. We believe in an open table because we believe God's grace and love is open to all people and is able to satisfy the hunger in our souls.
We're casual
We're a casual church, so you'll find all types of dress here. The important thing is that you are comfortable - no need to impress anyone. So dress up or dress down and simply come as you are.
Coffee and refreshments for you
We have complimentary coffee, lemonade, water and doughnuts in the Fellowship Hall. Enjoy before or after worship.
We're here for you
We have made our best efforts to make you feel welcome from the moment you arrive. We have people ready to serve you throughout the building. Please look for greeters or visit the welcome center located in the lobby of the Sanctuary and Chapel and they'll help answer questions or guide you around the church. Please ask us for help, we're all here for you!
We're right across the street from Broomfield High School. Use the "more" link for detailed directions.
Parents, we're with you on this journey. We can help grow your child's faith by helping you grow yours! There are so many ways your kids will be enriched and loved.
For 6-12 grade students, we're all about having fun. And more importantly, we want to help students grow closer to God and love others. Take a look at what's happening for students.
We believe small groups are key to adults sharing life and growing spiritually. We have dozens of groups and studies for varying interests and life stages. Let us help you find a group that's right for you.
Learn more about the staff at Broomfield UMC and connect with us.
Thank you so much for stopping by today and for your interest in Broomfield United Methodist Church. We'd love to learn more about you and get connected! We'll be in touch soon. We can be reached by phone at (303) 466-1719 or you can fill out our connect form below and we will reach out to you!"