You will be enriched in every way so that you can be
generous on every occasion, and through us your
generosity will result in thanksgiving to God.
2  c o r i n t h i a n s  9 : 1 1

Your Generosity Through the 2022 Christmas Offering Makes an Impact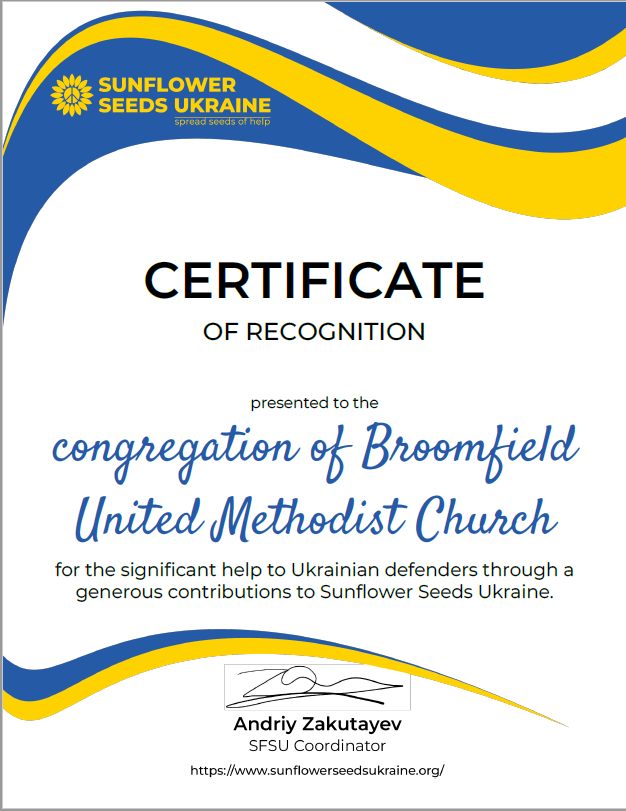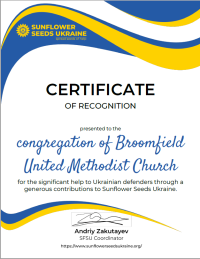 Your generosity is making an impact locally here in Broomfield and across the world in Ukraine. We were honored to present a check to both Joyful Journeys Broomfield and Sunflower Seeds Ukraine on behalf of the congregation's investment in the 2022 Christmas Offering.
Joyful Journeys (left): Nathan Heimer, Director of Connectional Ministries at Broomfield UMC, presents the offering to Cameron, Brianna, and the Broomfield team from Joyful Journeys. If you would like to learn more about Joyful Journeys and the good work they are doing, visit joyfuljourneys.org/broomfield/.
Sunflower Seeds Ukraine (right): Pastor Thomas Cross, Broomfield UMC, presents the offering to Andriy and Anastasiia from Sunflower Seeds Ukraine. If you would like to learn more about the good work they are doing or to get involved, visit sunflowerseedsukraine.org/.


easy options
We strive to offer many options for you to fulfill your giving to Broomfield UMC. We have broadened the options from plate or mail in offering to: local Kiosks, online giving (one-time, recurring, special opportunities), text to give, automatic withdrawals (ACH), gifts of appreciated assets, planned gifts/estates giving, car donations and in-kind contributions.
The Broomfield UMC faith family has an established legacy of generous giving. We are grateful for your continued gifts to resource the mission and ministries of Christ's church.
questions on giving
Contact Mindy Davidson by EMAIL or call 720-880-5217.